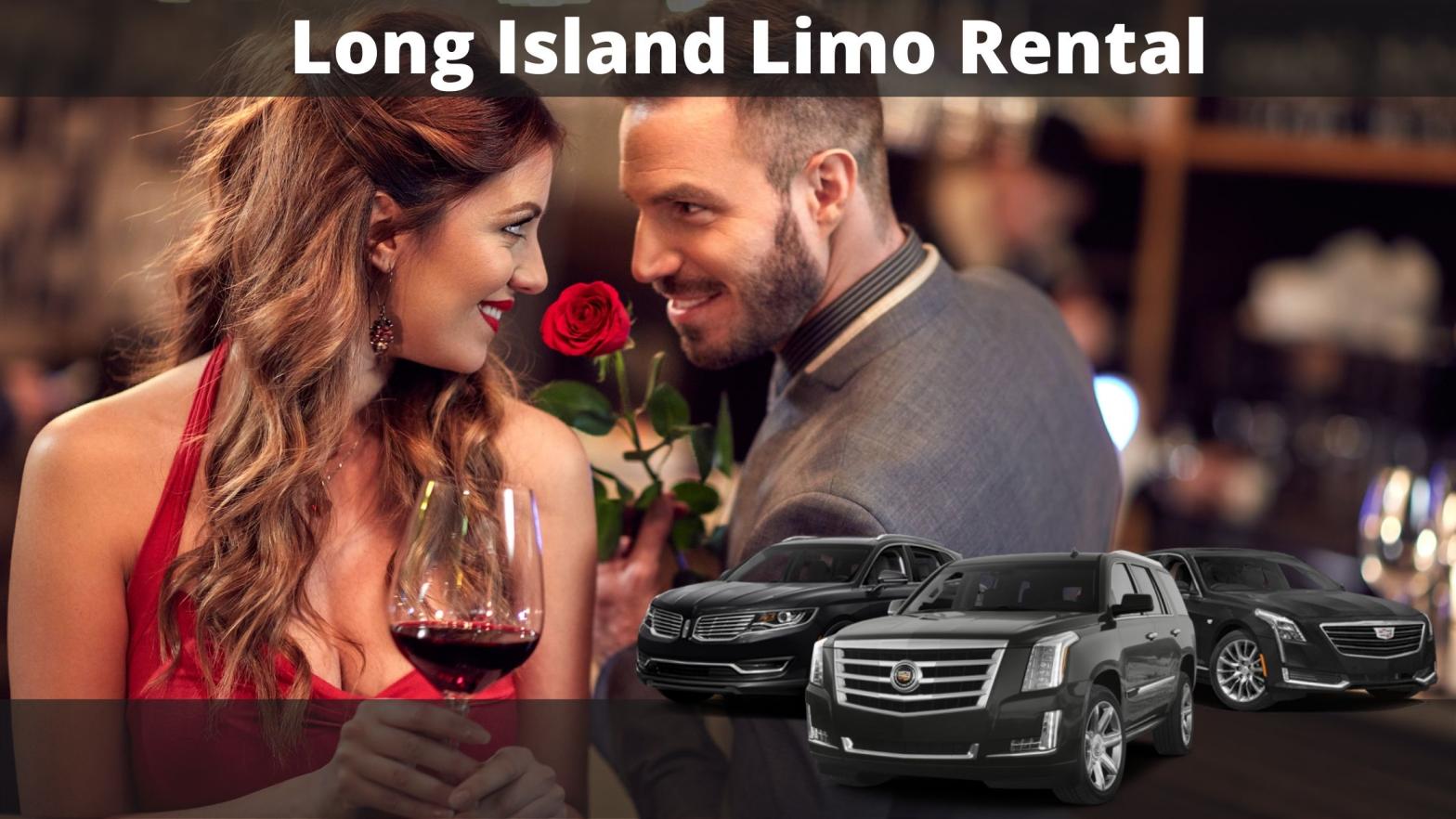 Valentine's Day Limo Service in Long Island NY
Book your Valentine's Day Limo Service in Long Island NY and create memories with your special one. Valentine's Day is a few weeks away and it is time to start the preparation in earnest. What plans do you have for this year's event? 
Well, why not indulge and be super romantic by choosing our Limo rental on Long Island. At Long Island Limo Rental, we have the perfect limousine that will appeal to you and your sweetheart. 
For this year, we are offering something exciting. When you book a limo for five hours, you get the sixth hour for free. Now, that is what we call value for money!
What is there to do on Valentine's Day on Long Island with a Limo Rental?
Romantic dinners, sweetheart stroll, in-person tour, couple's events, wine tour, beer tasting tour, and so much are there to explore. Long Island offers numerous fun activities and destinations to enjoy your Val's day. 
It is all about what you want and how unique you want the day to be for you and your lover. Long Island Limo Rental is here for you when it comes to your Long Island Limousine arrangement. 
We are available 24/7, so wherever you want to go and for how long you want the party to last, we will be there with you till the end. Here are some top considerations for your Valentine's Day with our Long Island Limo Service:
Love in Times Square

102-Acre Coastal Retreat

Valentine's Day Party/Boat Yacht Cruise

Trance Music Brooklyn Warehouse Party NYC

NYC Valentine's Day Wine Tasting, and more
Where Can I go on a Romantic Date with Valentine's Day Long Island Limo?
The options are limitless. First, you can consider a romantic dinner on Valentine's Day. With dozens of romantic restaurants in Long Island, you will be spoiled for choice. Here are some top restaurants you can explore for your romantic dinner:
Lakehouse

Blackstone Steakhouse

The Melting Pot

The Capital Grille

Crabtree's Restaurant 

Copperhill, and more
You can also consider a boat cruise. You can be sure to find numerous packages that you can consider on this special day. Another romantic idea is to go on a romantic stroll or a picnic. 
Whatever plan you have, we have the luxurious limo rentals in Long Island that will take you there. Our chauffeur will give you a beautiful ride experience that will make your day very memorable.
Is Wine Tour a good Idea for Valentine's Day Outing?
Absolutely! Wine is synonymous with romance, so what better way to celebrate this year's Val's than going on a wine tour? At Long Island Limo Rental, we have the latest models of limos that will serenade your sweetheart. 
If you are planning a surprise wine tasting tour, trust us to make the perfect arrangement for you. We offer the best fleet that you can choose from. 
They include Chrysler 300, Lincoln Stretch Limo, Ford Expedition Stretch White Limo, Mercedes Benz S 550, White Escalade Stretch Limo, and 1967 White Rolls Royce.
Simply rent a limo from us and we are committed to taking you to the best wineries in Long Island. Top wineries that you can go to for your Valentine's Day outing include:
Pindar Vineyards

Macari Vineyards

Kontokosta Winery

Pellegrini Vineyards

Raphael Winery

Borghese Vineyards

Pugliese Vineyards, among others
How much does a Long Island Wine Tour Cost for Valentine's Day?
It is difficult to calculate the cost of a Long Island wine tour without adequate information about your needs. Things that are included in the cost include the type of limo you want, the duration of use, the location of use, and when you book your ride. 
At Long Island Limo Rental, we have different packages for different costs. The good news is that for this Valentine's Day, we have a special package for all lovers. 
When you rent a limo for five hours, you get the sixth hour for free. That means you get a six-hour limo ride for the price of five-hour!
What can I do on Valentine's Day for a Low Budget in Long Island?
We understand that you may not have a big budget to pull off a big Valentine's Day surprise for your sweetheart. The truth is that you do not need a big budget to give your partner a memorable Val's package. There are many things you can do with a low budget. 
To complement your choice, you should hire our affordable limo service Long Island to give it a touch of class and uniqueness. Here are some great ideas of Valentine's Day activities that you can do with a low budget:
Long Island Limo Ride for a Movie Night

Limo Rental Long Island for a Picnic

Limo Rental Nassau County for a wine tour

Limousine Long Island for a Romantic Dinner
Hire Valentine's Day Limo Service in Long Island
We have got you covered on Val's Day. All you have to do is decide what you want to do to surprise your sweetheart and leave the transportation arrangement to use. 
We have a wide range of limos that will meet your transportation needs. Contact us today to rent a limo and we assure you of a memorable Valentine's Day event.