Thanksgiving Day Special Limo Service in Long Island NY

Holidays are some of the best days of life. It's that time of the year when you can let your hair down and have as much fun as you want. 2019 thanksgiving day limo is one such time. In fact, Thanksgiving Day in New York starts off the exciting and much anticipated holiday season and it's such a special time that we all look forward to it. The great news is that another Thanksgiving Day is around the corner and it is time to start the preparation in earnest. What are your plans for this year's Thanksgiving Day? What exciting destinations are you planning to explore? Whatever plan you make for this special holiday weekend, you shouldn't leave your transportation plan out of the scheme of things. In case you have not even thought about it, you don't have to worry. Our Long Island limo service is at your service. However, it will be a great opportunity to book ahead of time because the slots are filling up fast and we won't want you to miss out on the exciting deals and plans that Long Island Limo Rental has for its customers.
In case you have no idea what you should do this holiday period, we have highlighted some top to-do activities that will surely give you a memorable Thanksgiving Day holiday in 2019. Are you ready to explore? Let's get right into it. Wait a moment! Before we go ahead, remember that you need to be fast about your luxury car service Long Island reservation because orders have started rolling in fast and we won't want you to miss out of our exceptional service this season.
Long Island Limo Service to Radio City Music Hall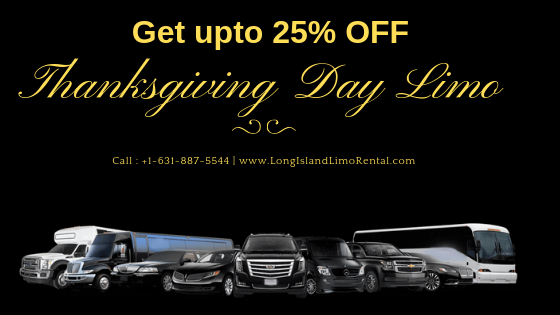 Thanksgiving Day kicks off the holiday season and there is no better way to get into the holiday mood like a trip to the one of a kind Radio City Musical Hall's spectacular event. There is so much to do; from high kicking Rockettes to the wooden soldiers and to real live stable animals, you can't have a dull moment at this destination. Enjoy amazing shows and music as you take in the exciting view of the Hall. You can be sure that this is an unforgettable experience you won't want to miss. The great thing about this event is that it is perfect for both adults and kids. So, if you want to create memories with your kids, it's time to book our Long Island car service and take a trip to the Radio City Music Hall for an exceptional time with your family. If you have a large family, our limousine for 18 people might be an ideal choice.
Limos Long Island Westbury to Macy's Thanksgiving Day Parade
Thanksgiving Day is not complete without the spectacular Macy's Thanksgiving Day Parade. If you are up to the task, join the parade from 77th Street all the way to 34th Street and have all the fun you can ever imagine. This parade is a 2.5-mile of fun and excitement featuring marching bands, new balloons, and celebrities joining the parade. You need to get their early to be able to get an excellent spot. You don't have to worry though, our car service Patchogue NY is at your service to get you to the parade venue on time. You definitely know that the more the merrier; so if you are joining the parade with a group of friends, our limos for 20 passengers will be available for you. You can contact us now to know all about our limo packages NYC for your Thanksgiving Day trips.
 Long Island Car Service for Holiday Train Show
The Holiday train show is absolutely an exceptional sight to behold. New York Botanical Garden beckons and it welcomes you to the magical world where nature meets technology. You can watch the trains wind through the wonderland of New York City icons and landmarks. All the components are designed from natural elements such as berries, leaves, bark, and a host of others. There is so much to see and do. If you are visiting this destination with friends and family, our party buses Long Island will be the ideal choice for your transportation. And if you are traveling to New York for this Thanksgiving, this is one sight you need to experience. You don't have to worry about your transportation arrangement; our Long Island airport limo service can be arranged for you. We will ensure you don't miss a moment of fun.
Night Out Limo Service for Rockefeller Center Tree Lighting
If you are still in town a couple of days after Thanksgiving weekend, you might want to consider a trip to the Rockefeller Center for an amazing view of the lighted iconic tree. The Norwegian Spruce will be in New York City in early November and you can expect to see the mind-blowing 30,000 LED lights, as well as the Swarovski crystal star, adorn the tree. You will be able to watch the startling lights in awe from 7 pm to 10 pm. The ceremony for 2019 kicks off from December 4th and you can begin to experience the spirit of Christmas right away. Don't forget, our Limo service West Islip NY will be readily available to take care of your transportation. You can always trust us for your night out limo service in Long Island.
Luxury Car Service Long Island to Brooklyn Holiday Bazaar
Thanksgiving Day weekend is a great time to shop for the holiday season. With so much to buy at great prices, and so much to see, you definitely will love every moment of your time at Brooklyn Holiday Bazaar. Located at 501 Union Street, it is indeed an excellent destination for your holiday shopping needs. Explore the hundreds of hand-made gifts ranging from handmade paper to paintings and handcrafted jewelry. And when you need to take a bite, check out one of the local vendors and enjoy mouthwatering delicacies. When you are done shopping, you can take a tour around the neighborhood. Our professional chauffeur will be there with you all the way with our limo service in Long Island. 
We will be delighted to arrange your Long Island limo service to this destination so you don't have to worry about any delay. Call us today to request for our limo service Long Island prices.